indoor mushroom growers
GROW YOUR OWN MUSHROOMS!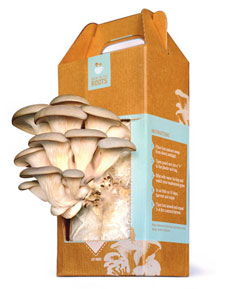 Mushrooms are delicious vegetables which go well in omelets, in salads, or with a juicy steak. The truth is they taste even better when freshly picked.
Have you ever thought about growing your own mushrooms? Not the old fashioned way that means wandering aimlessly through the woods hoping to stumble upon a hidden cluster of stems. The best part is that everything can be done within the comfort of your home, even in the middle of winter.
Mushroom growing is a simple, fun activity that the kids will love. You can relax because it's not half as messy as finger-paint. Just think of the sense of satisfaction and accomplishment they will have at mealtime. Misting the kit regularly is the main task in addition to the harvesting. Self- contained mail order kits will begin to produce in as little as 10 days. The websites mentioned below provide more details to help you decide if you want to grow mushrooms.
There are really only four things that come in the kit.
Mushroom spore / Liquid culture: the building blocks of all mushrooms, like the DNA.
Growing Media: a soil like blend of material in which the growing happens.
Growing Chamber: this can be a box or a plastic tub that holds everything.
Spray Bottle: misting the growing area regularly is needed for growth.
The websites mushbox.com and thinkgeek.com/product/ed80/  are very informative and were consulted for this article.
Bon Appetite!